ESCP Europe – DECS
Managing Director of various service companies in France and overseas : Group'3C, Skadden Arps, Cendant Marketing Services, since 1997.
Director of Management Control : Arthur Andersen, Adecco, Pierre & Vacances, from 1987 to 1996.
Business Angel. Strategic Advisor for Start-ups. Coaching for company creation and takeover.
Fields of expertise : legal and financial, auditing and consulting, banking industry, tourism, call centers…
Certified Coach. Psychotechnical tests MBTI and  SOSIE
 CRA Expert for company takeover
ESCP Europe career commission . Radio Host
Bilingual French-English. Fluent in German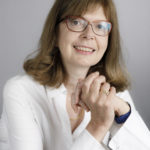 Isabelle Fievet-Rossignol
IEP Paris, ESCP Europe
Coach specialized in individual or group support (team-
building and co-développement)
Senior Consultant in Executives outplacement
Trained in team management
Antenna manager for a community radio
Sectors of Expertise : marketing, communication, publishing, cultural projects, social and sustainable economy
Certified Coaching-Team Building Transformance Pro
ESCP Europe
Business units manager in the luxury industry : flagships manager for Richemont  (Montblanc, Piaget), LVMH (Fred) and Baccarat from 1999 to 2017.
Executive Coach specialized in career development, professional transitions and managerial challenges,
Consultant and trainer in luxury and retail:

Client experience
Sales transformation &  performance indicators
Soft skills & image
Fields of expertise : sales, communication, marketing and HR. Luxury, design and Art of living.
IFPNL  certification- support and communication techniques . « Paris School of Luxury » steering committee. English and Italian
CAPA, Law School for the Paris Bar
Lawyer at the Paris Bar
Over than 20 years of experience with prestigious international firms including 10 years as Counsel at White & Case LLP.
Rankings: Leading Lawyers Chambers & Partners (2017), Client Choice Award " Best Competition & Antitrust lawyer France" (2016), Best lawyers and legal 500 (2017).
Coach specialized in individual support, career development, professional transitioning and leadership development
Specialized in legal professions
Certified Coach IFOD
University of Panthéon-Assas
Bilingual English and German. 
Occupational Psychologist
University of  Paris VIII
Psychologist specialized in professional rehabilitation
PHD in Psychology
Lecturer at the Paris Villetaneuse University and at Paris INP (National Legacy Institute)
Fields of expertise: psychological  assessments and and support for victims of accidents or illnesses needing a professional rehabilitation
Certified ADELI (Certified Health Practitioner)
CAPA Law School for the Paris Bar, Master in Private Law
Expert lawyer at the Paris Bar since 1979, founder of the JMAvocats law firm
40 years experience :

In individual or collective social law: crackings, negociations, litigations, transactions
In social law for expatriates
In supporting professional transitions

Former professor in charge of workshops at the Vocational Training Centre for lawyers (ESB)
Specialization certificates: corporate law, contract law,  competition law, loan and consumption law.
Université de Paris II- Assas. Chevalier de l'Ordre National du Mérite (Knight of the Ordre National du Mérite)
HEC – HBS
Executive Director at Arthur Andersen from 1986 to 1998. In charge of Initial Public Offerings in North America. In charge of clients such as Arcelor and  Thomson.
Senior VP at Thyssenkrupp-Sofedit, then International General Manager at E.M.A.R.C (from 1999 to present) ; international OEM, operation in Europe, North and South America, as well as in Asia.
Bilingual English and Italian.
German and Spanish.
HR Master – Negotiation, Organization
Consultant and HR advisor. Interim Manager
Professional Coach in individual, group and organizational support.
Fields Expertise : medical professions, design offices.
Certified coach supervised by F. Délivré
Certified Change facilitator , supervised Jacques Moreau.Trained in Nonviolent communication and Process Com.
Under contract with the European association of Transactional Analysis
Bilingual French and German
Systemic Method Therapist
Brief Therapy from the Grégory Bateson Institute
Crisis situations, conflict, management
Change Management
Senior Executives coaching
Post-traumatic stress therapy
Self-esteem/ self confidence issues
Anxiety disorders (phobia, panic, anxiety)
Marital problems, parents/children relationships, academic difficulties
Ericksonian Hypnosis Master  New-York Training Institute / Master PNL IFPNL 
Certified in school bullying  ( Orphée network)
Psychologist consultant Radio RCJ
English, Spanish.
Leeds University – ParisTech/ ENS Cachan
Joanna is British-Brazilian and has been living in France since 1995. She has worked in HR more than 20 years more specifically in the fields of recruitment training, skills management, diversity and inclusion.
Joanna is a certified professional coach and corporate trainer. She supports business professionals in managing workplace challenges, impatriation/expatriation issues.
She also delivers training in companies on the subject of gender diversity, intergenerational cooperation and intercultural management.
Co-founder of an English speaking network of HR professional in Paris called " Perspectives Network" . Active member of the Mentoring chapter of EMCC France
BS Hons. Sociology- Cardiff University
Neurolanguage coach specializing in communication techniques, presentations skills, conducting meetings and interview techniques for the Executives of several French multinationals.
Codevelopment workshops facilitator for the improvement and development of professional practices.
External Speaker/facilitator in Parisian Business Schools – preparing for expatriation and cultural awareness.
Personal and professional development coach- management of projects, leadership techniques…
Certified Coach ACC. EPCC Erickson International. Neurolanguage coach.Certified DISC facilitator Bilingual English/ French. 
Certified Public Accountant – Doctorate Degree (DESS) from Paris Dauphine
VP in charge of Finance for France and Swizerland , member of the executive Committee : Paprec Recyclage from 2008 to 2015.
Director of Management Control and accounting, financial and HR: Paprec Recycling, Hélios Group, VPS, Groupe Intersport from 1989 to 2015
Sectors of expertise: support to project holders (business plan, bank financing, accounting, management tools for the executives) for all types of companies and levels of activity
Bilingual French and English.
Spanish